July 26, 2018
Orange Photonics Adds Terpenes+ Module – Measures Terpenes, CBC and Degraded THC for LightLab Analyzer Users
Orange Photonics is pleased to announce the release of the Terpenes+ Module for the LightLab Cannabis Analyzer. The Terpenes+ module adds three new chemical analyses to the existing six cannabinoids reported – terpenes, degraded THC and CBC. The LightLab Cannabis Analyzer is a portable analyzer that serves the on-site quality control needs of businesses with cannabis in their supply chain.
"The Terpenes+ Module expands the data set available to LightLab users." says Stephanie McArdle, President of Orange Photonics. "Our customers are constantly innovating. LightLab's Terpenes+ module expands the opportunity to finetune extraction processes and further differentiate consumer products."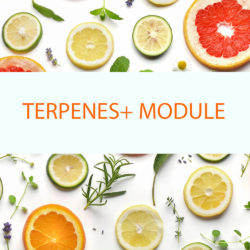 Terpenes are the scent molecules in cannabis and are often considered a key component to the "entourage effect. Cannabis cultivars are frequently bred to display specific terpene profiles and terpenes are often introduced to concentrates. LightLab Terpenes+ Module offers a semi-quantitative terpenes analysis and a quantitative measurement of degraded THC and CBC.
"Cannabis distillates are some of the most prized cannabis products around, but the heat used to create them can also create undesirable compounds" says Dylan Wilks, CTO of Orange Photonics, "distillate producers can see potency drop more than 25% if their process isn't optimized". With the Terpenes+ Module, LightLab quantifies degraded THC content.
CBC, or Cannabichromene, is a cannabinoid typically seen in hemp and CBD rich plants. Much like CBD, CBC has been purportedly linked to potential medicinal applications. CBC is the eight-cannabinoid measured by LightLab.
LightLab users can add the Terpenes + Module without any changes to their existing hardware or sample preparation process.
About Orange Photonics
LightLab, the flagship product of Orange Photonics, offers accurate, fast cannabis potency analysis of plant material, concentrates and infused products. LightLab utilizes liquid chromatography, the same technology used by cannabis laboratories, to provide accurate measurement of eight cannabinoids and terpenes. LightLab serves the needs of both the marijuana and hemp industries, counting cultivators, extracts and oils manufacturers, testing laboratories, infused products producers, and dispensaries among its customers.