Save money. Save time. Increase yields.
---
Portable cannabis testing equipment, easy to use and low cost! LightLab by Orange Photonics, brings accurate cannabis potency analysis out of the laboratory and into fields and processing centers. LightLab cannabis analyzer applies liquid chromatography and spectroscopy analytical techniques which are the technologies most regulatory laboratories use to analyze cannabinoid content. LightLab simplifies the analytical process to deliver accurate repeatable results.
Measured Components
Δ9THC (Delta 9 Tetrahydrocannabinol)
THC-A (Tetrahydrocannabinolic Acid)
CBD (Cannabidiol)
CBD-A (Cannabidiolic Acid)
CBN (Cannabinol)
CBG-A (Cannabigerolic Acid)
CBC (Cannabichromene)*
Degraded THC*
Terpenes*
* Included with the Terpenes+ Module
Features
Flower, trim, concentrates, tinctures, raffinate
Hemp Compliance Module (optional)
Terpenes+ Module (optional)
Results in under 10 minutes
Intuitive touchscreen interface
8-hour battery life

THE LIGHTLAB ADVANTAGE
Our customers integrate LightLab into their daily workflow in support of supply chain management, quality control, process optimization and compliance.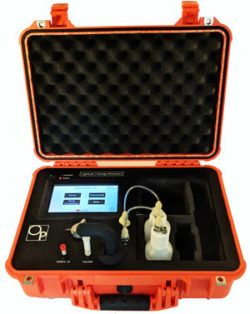 Ensure complete extraction
Track THC/CBD ratios
Test trim prior to purchase
Harvest at peak potency
Enable cultivar selection
Drive internal R&D
Control product consistency
EASY TO USE
LightLab provides lab-grade accuracy in a rugged, easy-to-use format. Its touchscreen streamlines and simplifies the entire analytical process so every team member can follow the same workflow to produce consistent results.
Step-by-step – On-screen instructions guide you through each step of sample preparation based upon the sample type you select.
Accessories – Your LightLab includes all the accessories you need to begin using LightLab right out of the box, including a scale, sample warmer, sample shaker and more.
Tags – You have the option to include analysis tags including the operators name, sample ID etc.
Factory Calibration – LightLab arrives pre-calibrated and ready to use right out of the box. LightLab calibrations use Cerilliant® calibration standards, rather than a computer model, for the most accurate results possible.
Reports – Your analysis results are populated on the screen, as well as saved to a CSV file on an SD card.
Pro Mode – Advanced LightLab users may bypass guided screens to streamline workflow in Pro Mode.
Workbench Setup – If you are running a high number of tests from stationary workstation, a Workbench Setup is available.
RESULTS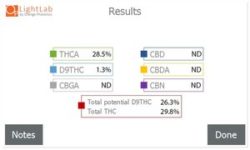 Sample analysis results are available in three formats.
On-screen – After you run your sample, your results will populate on LightLab's screen. From this screen you can add additional details about the sample by tapping "notes" or you can tap "done" and run your next sample.
Spreadsheet – In addition, LightLab provides a comma-separated values (CSV) file which gives you maximum flexibility and the opportunity to further analyze sample results in aggregate.
Report – You can use the CSV file to generate a full report, containing all the details about the sample you ran, including all inputted information such as moisture correction, operator, sample size and more.