Lab-Accurate. In-House. In Orange.
---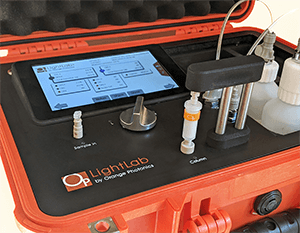 Accurate and easy to use, LightLab 3 is a purpose-built HPLC (high performance liquid chromatogram) that lets non-technical users analyze the potency of samples any time, any place.
The LightLab 3 Cannabis Analyzer, which measures cannabinoids and semi-quantitative terpenes, is available in both the standard version, as well as the High Sensitivity (HS) version.
The LightLab 3 Psychedelics Analyzer measures psilocybin, psilocin, and ACO-DMT in psychedelic mushrooms and infused products.
LightLab 3 Law Enforcement cannabis analyzer is also available.
OVERVIEW
Capable and economical, measures up to 19 cannabinoids for most product types excluding edibles
All the capability of the standard version plus ultra-low detection limits down to 1.7ppm and edibles capability including automated SOP generation for most common edibles types
Measures psilocybin, psilocin, and ACO-DMT in psychedelic mushrooms and infused products
SAMPLE TYPES
Finished plant/flower
Young plant
Concentrates
Tinctures
Raffinate
Hemp compliance (with module)
Custom modes
Gummies
Beverages
Beverage enhancers
Chocolates
Baked goods
Hard candies/lollipops
Caramels
Nanoemulsions
Pet treats
Custom edibles
Finished plant/flower
Young plant
Concentrates
Tinctures
Raffinate
Hemp compliance (with module)
Custom modes
Dried Biomass
Wet Biomass
Gummies
Chocolates
Capsules
Extracts
Custom modes
MINIMUM DETECTION LIMITS
CANNABINOIDS/ANALYTES MEASURED
Δ9-THC
THC-A
CBD
CBD-A
CBN
CBG
CBG-A
Δ8-THC
CBN-A
Δ10-THC
CBC-A
THCV-A
CBC
THCV
Δ9-THC-O Acetate
Δ8-THC-O Acetate
Δ9-THCP
Δ8-THCP
HHC
Semi-quantitative Terpenes
Δ9-THC
THC-A
CBD
CBD-A
CBN
CBG
CBG-A
Δ8-THC
CBN-A
Δ10-THC
CBC-A
THCV-A
CBC
THCV
Δ9-THC-O Acetate
Δ8-THC-O Acetate
Δ9-THCP
Δ8-THCP
HHC
Semi-quantitative Terpenes
Psilocybin
Psilocin
4-AcO-DMT
Total Active Psilocin
Total Tryptamines