Fast Cannabis Analysis. Lab-grade. Without the Lab.
---
Law enforcement agencies across the United States are using LightLab to quickly quantify THC content in cannabis plants and products in non-lab settings. Designed for the non-technical user, LightLab provides real-time presumptive and quantitative analysis to ensure only illicit products are seized.
Trusted By
Police and Sheriffs
Drug Enforcement Agency
Bureaus of Investigation
US Customs & Border Protection Agency
Narcotics Laboratories
Ports of Entry
Products
Plant material
Flower
Vape cartridge
Isolate (white powder)
Edibles
Tinctures
Infused products
Custom (advanced)
Advantages
Execute warrants with confidence
Add scalable forensic testing throughput
Support legal operations
Support the community
Provide quantitative analysis indicating probable cause
Law Enforcement Modes
Two testing modes offer flexibility for specific testing scenarios.
Presumptive Mode
Presumptive mode reports whether a sample is CBD dominant (hemp) or THC Dominant (psychoactive) using ratios of cannabinoids present in a sample. Minimal sample preparation and on-screen guidance allow for quick and robust field checks for plant material, concentrates, and edibles.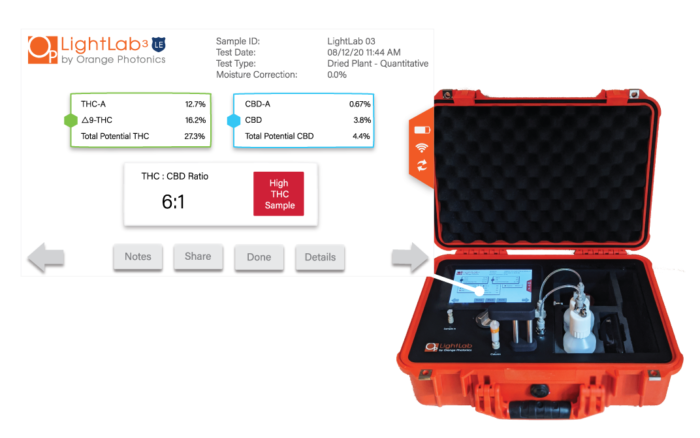 Quantitative Mode
Quantitative Mode offers laboratory-grade quantitative analysis for up to 19 cannabinoids including D9THC and CBD.  This mode uses step-by-step on-screen instructions that guide non-technical personnel through sample preparation.  The quantitative mode will report both quantitative information about cannabinoids as well as a presumptive determination of CBD dominant (hemp) or THC Dominant (psychoactive) samples.  
Plants and Products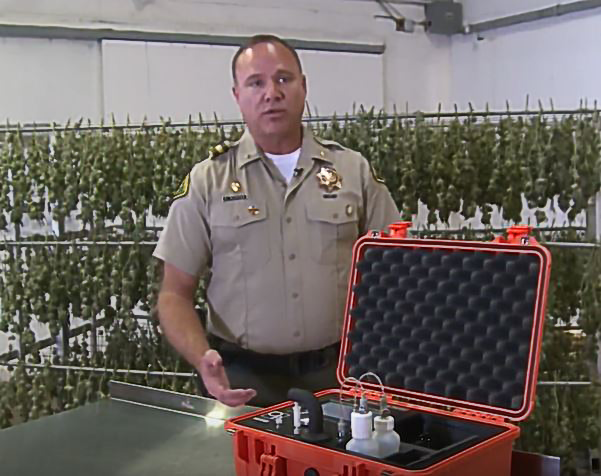 Cannabis plants and products (marijuana and hemp) may both contain THC, a psychoactive compound. However, it is critical to determine precisely how much THC content exists in the sample before executing a warrant and taking possession of the suspect items. LightLab 3 Law Enforcement Version lets the user immediately determine if a sample matches a Certificate of Analysis, corresponds to a business license, and is a legal or illicit product.
Test Like a Lab at Your Desk
LightLab's intuitive touchscreen interface relays step-by-step instructions allowing non-technical users to accurately complete an analysis. The instrument's hardened analytical components and accurate performance make LightLab the go-to tool for mobile cannabis analysis.
Video: How to Run a Sample
Technology for All
Orange Photonics is the global leader in ruggedized, portable easy-to-use, High-Performance Liquid Chromatography (HPLC) based technology. HPLC technology is the Federally recommended technology for testing cannabis. Each LightLab is calibrated at the factory using traceable Certified Reference Material.