By Ashley Serafin, Customer Relations & Marketing
We sat down with the co-owners of District Derp, Anaïs and Chris, to discuss how they have navigated the anomalous cannabis landscape in Washington, DC. With a customer-centric approach, District Derp is breaking the stigma surrounding the cannabis services in their area by anchoring their brand to stringent quality control procedures delivered through on-site testing.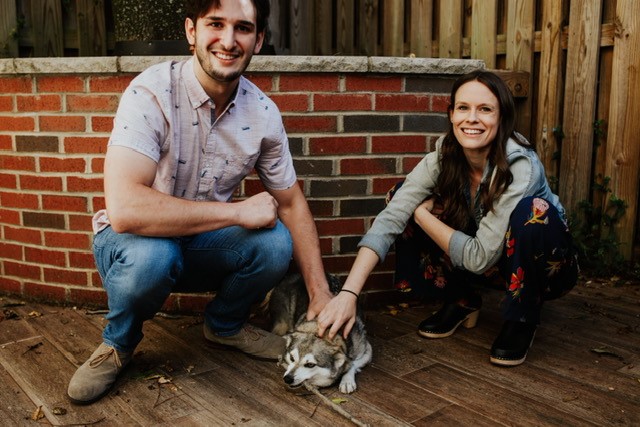 When did you start District Derp and what inspired you to do so?
Anaïs: The inspiration for District Derp came from our own experience trying to navigate the newly legal cannabis market. We were both living in DC and at that point cannabis was already legal to have, consume, grow, and transfer. In trying to find our own relief with cannabis, we noticed that there wasn't a lot of transparency between the provider and client. Many times, you weren't being told what strain you were getting, or any real information about the product. The process in obtaining these goods was also an uncomfortable experience, and as a woman, many situations did not feel safe. We saw a need in the area and it really inspired us to take the lead; in 2018 we started District Derp.
How do you set yourselves apart from an already competitive DC market?
Anaïs: Testing is one of the big pillars that we believe separates us from the competition. They're not doing potency testing, they're not doing testing of their infusions, and they're certainly not providing that information to their clients.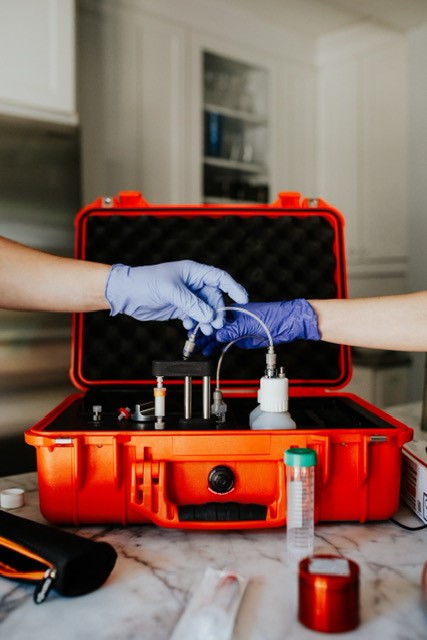 I'm coming from Los Angeles, so my formative experience was California's legal market. There was testing, regulation and a focus on consumer safety that we just didn't see here on the east coast. We believe that the people of DC deserve to have a safe service where they have choice and education, so we built from that experience, taking what we liked from west coast markets.
Chris: Our personal experiences with the emergence of cannabis in our area made the customer experience an integral part of what we wanted to achieve with District Derp. We really set out from the beginning to change the landscape of the cannabis industry and how people looked at cannabis companies like our own.
How do you ensure the quality and consistency of your products? Did you experience any challenges?
Anaïs: This has been why our quest for testing equipment was so paramount to us; the way we ensure our product consistency is by testing our infusions and working from there. We faced some challenges trying to find the right technology to meet our needs. We tried two pieces of equipment that seemed to be better suited for personal use, as they weren't able to produce the quantifiable results we needed.
I come from a biology and biochemistry background where I've had the opportunity to work with HPLC equipment, and in researching the LightLab I remember thinking, "this is a lab, literally in a box." After using it within our operation we've found that it's brought the accuracy and repeatability that we were searching for in an on-site analyzer.
How do you use the LightLab Cannabis Analyzer within your supply chain and manufacturing process?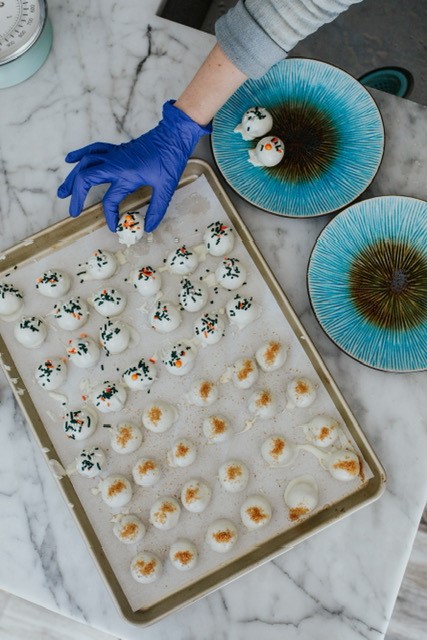 Anaïs: We use the LightLab to test our incoming flower, oil cartridges, and most importantly, our edibles. We use LightLab the most in testing our infusions. We start by making very potent butter and then we can measure out how much of the other ingredients we will need. We are very precise in our measurements, playing to our mission in providing quality and consistency to our customers. We have found that many people have a checkered past with edibles; there is always one or two bad experiences that individuals encounter, and our goal is providing relief and relaxation to our clients.
How have you been able to engage with your clients on a level that surpasses other services?
Chris: We joke a lot between each other about the interactions we have with clients. People seem to like sharing things with me, and I've always been able to empathize with their situations. This has helped us to make really strong, lasting connections with our cliental. It's important that we understand where they are coming from so we can better serve their needs. Whether that be if they have children or pets, if they are having trouble sleeping or undergoing back pain; we use that knowledge to provide them with a better, more curated experience.
Anaïs: As Chris mentioned, it has been our goal to re-tool how people see cannabis and how they interact with cannabis services. We are looking to empower the client rather than looking for a quick buck, which is what you see so often in the industry.
How do the laws in your area impact your business?
Chris: In 2015 there was a law enacted in Washington, DC, known as Initiative 71. This stated that you can possess, grow, transfer and consume cannabis.
Anaïs: The transferring element is where it becomes really grey. It's legal to buy cannabis but it's not legal to sell it. The market has evolved around this and has become a "gifted model." As a consumer, you're buying a product, for us we sell art, and then you're getting a "free gift" of cannabis in some form. For example, some services will charge $50 for a sticker, and with that purchase you will also receive a "free gift" which is the cannabis.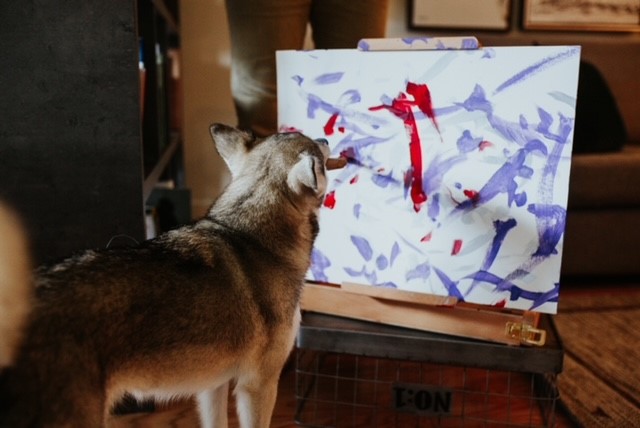 Chris: Now obviously the sticker isn't worth $50, it is the gift that costs that, and that's where our idea of selling artwork came in. Not only do we feel that art pairs well with cannabis, but it's whatever you want to make it worth, it's what people see in the art that makes it valuable. One of my favorite quotes is from Andy Warhol and he said "Art is whatever you can get away with," and I firmly believe that. I also feel like art is something that says a little bit about you and having that more personal touch in the customer experience is priceless.
Anaïs: Our art is special in that our dog is the artist! Chris trained our dog Sudo, a little Alaskan Klee Kai, how to paint a few years ago off a bet he had with a friend, and we thought it tied into District Derp perfectly. So aside from us preparing the materials for her, our dog Sudo paints all of the artwork sold through District Derp.
What kind of "gifts" can your clients expect to receive?
Anaïs: We offer three types of gifts including cannabis flower, vape cartridges, and edibles. We make all of our edible products in-house, and we do everything as by the book as possible, sticking to the land of the law. We use the same methods as candy manufacturing plants, producing baked goods, candy, gummies and caramels. We ensure that every product is made fresh and properly packaged with care.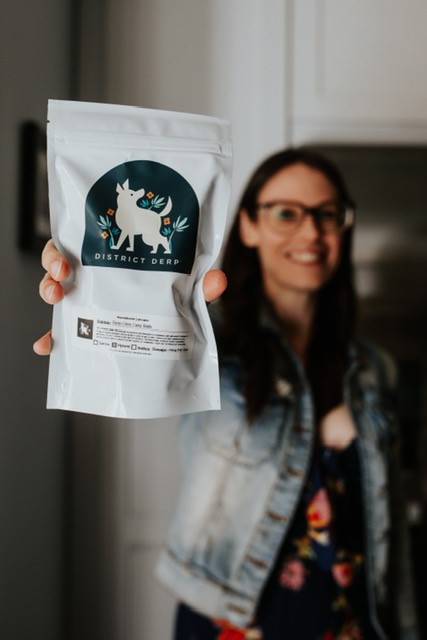 We are really elevating our edibles; taking it from something that people consume strictly for the THC, to a delicious experience that you can enjoy the entire way through. With our process you can actually taste the chocolate in our chocolate chip cookies, you can taste the hint of espresso in our brownies, it really takes things to the next level.
What's one piece of advice you'd like to share with cannabis entrepreneurs that are trying to start businesses of their own?
Chris: Do everything you can to establish trust. Ensure the quality in your products, get to know your clients, and elevate your business by establishing a brand personality. Steer away from old cannabis stereotypes and be authentic, it will differentiate you from the pack and your audience will take notice.
About District Derp
District Derp is a product and lifestyle brand at the intersection of cannabis, wellness, art, and social good. Our core mission is to facilitate and elevate the cannabis experience by way of education, empowerment, and provenance. This is actualized by marrying a rigorous, data-driven process with holistic personalization.
For more on District Derp, visit their website.