Built for Cannabis. Built for Performance.
---
LightLab was designed to be easy to use and deliver lab-grade accuracy. LightLab applies liquid chromatography which separates the cannabinoids, spectroscopy which uses light to analyze the sample's compounds, and linear regression mathematics to calculate sample results.
HIGH PERFORMANCE LIQUID CHROMATOGRAPHY
Your analytical laboratory likely uses High Performance Liquid Chromatography (HPLC) to analyze your hemp or cannabis sample. Like an HPLC, LightLab pushes an extracted cannabis sample through a column. The column separates the cannabinoids in the sample by slowing down cannabinoids by different amounts based on their affinity to the column. This allows each cannabinoid to exit the column at a different time. For example, CBD may exit the column first, then D9THC, and so on. Once the column separates the cannabinoids, they move to the next step in the analytical process: spectroscopy.
ULTRAVIOLET SPECTROSCOPY
Spectroscopy uses light to measure the analytical composition of compounds. During the analytical process, the sample flows between a light source and a detector. The detector will quantify how much light is getting through the sample. Since every cannabinoid has a particular light absorption signature LightLab can provide quantitative measurements. LightLab borrows spectroscopy technology from the Curiosity Mars Rover, providing an accurate and dependable analysis every time.
LIGHTLAB CHROMATOGRAM AND CALCULATIONS
When LightLab analyzes a sample, it separates cannabinoids over time and detects them with UV light at several wavelengths. An HPLC works in much of the same way, though in many cases only one wavelength of light is utilized. In a standard HPLC, the chromatogram shows peaks that represent different analytes; the area of the analyte is correlated with the concentration of that analyte. While LightLab uses the chromatogram as part of its analysis, the calculation is not a strict peak area calculation. Instead, LightLab uses a sophisticated multi-dimensional, non-linear regression to calculate results. This algorithm uses multiple UV wavelengths along with the chromatogram to determine the final results. This allows for more robust and accurate measurement of cannabinoids even with challenging environmental conditions and complex samples.
---
Track. Share. Compare.
It has never been easier to track, share and manage your test data. Track test progress from your mobile device, share test results and generate a Certificate of Analysis complete with authenticity verification controls.
Certificate of Analysis
Generate a Certificate of Analysis (CoA) with the click of a button. The CoA reports the cannabinoid content of the sample in weight percent, limits of detection, user-inputted sample identifiers, and automatically generated information such as time stamps and instrument serial numbers. A QR code on the report corresponds with the original test results and confirms the authenticity of the report itself.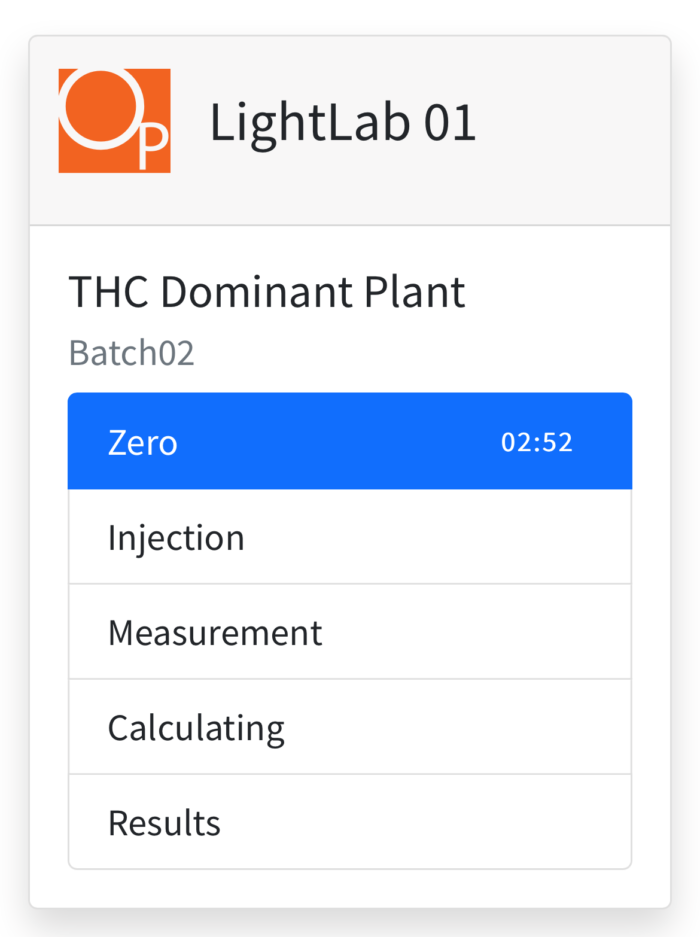 Mobile Monitoring
LightLab's Mobile Monitoring feature gives users the ability to remotely track sample test progress, start to finish from a smartphone. This gives users the ability to step away from their LightLab and tend to other tasks while running a test. LightLab sends notifications when the next step of the testing process is ready and redirects to the Result Dashboard when the test is complete.
Result Dashboard
When a test is complete, a unique QR code is generated that brings you to a Result Dashboard, populated through an internet webpage. The Result Dashboard displays sample details and final results. From this page, you can share your data with your social media pages or contacts, generate an official Certificate of Analysis, and download a CSV report.
Results
Sample analysis results are available in five formats.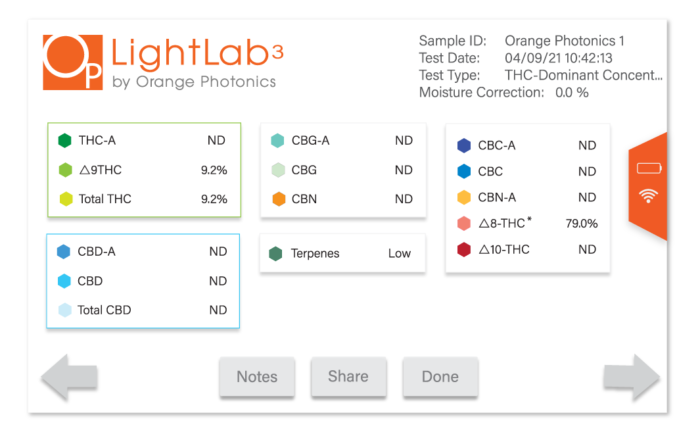 On-screen – After you run a sample, the results will populate on the LightLab. From this screen, you can add additional details about the sample by tapping "Notes," tapping "Done" to run your next sample, or selecting "Share" to share your results via email or text. The share feature has two options for sending results; send the Certificate of Analysis or choose to send the Result Dashboard.
Certificate of Analysis – An official Certificate of Analysis (CoA) that includes user-inputted sample identifiers and final results.
Result Dashboard – The Result Dashboard is a unique webpage displaying sample details and final results. From this page, you can generate an official Certificate of Analysis, download a CSV report, and share sample details.
Report – You can use the CSV file to generate a full report containing the details about the sample you ran, including all inputted information such as moisture correction, operator, sample size, and more.
Text and Email – Once your LightLab is set up on Wi-Fi, you can share your results via text or email. Sharing capabilities include an official Certificate of Analysis or the Results Webpage.
---
Calibration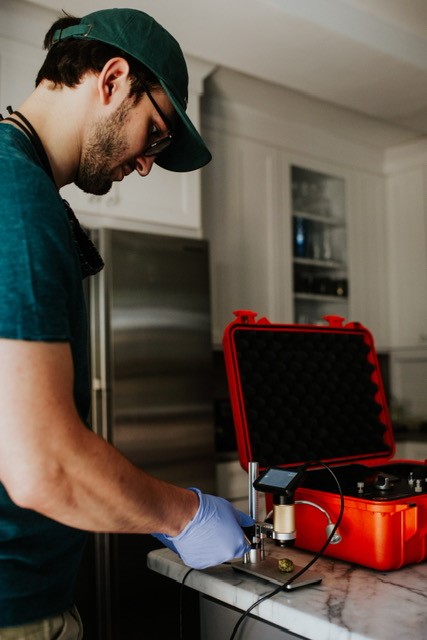 LightLab 3 is shipped to you calibrated and ready to run. After you have run 1,000 tests or after one year, whichever comes first, return your LightLab to Orange Photonics for a calibration service. LightLab calibrations use Certified Reference Standards. To learn more about LightLab calibration, watch this quick video.
The only hands-on maintenance required is the easy task of replacing the Selective Separation Column every 25 tests. LightLab runs a self-cleaning cycle automatically and therefore it does not require manual cleaning or flushing.
LightLab Operating Expense
Like all lab-based liquid chromatography instrumentation, LightLab uses solvent to extract the cannabinoids from the sample. The same LightLab Extraction Solvent is also used as a carrier solution (mobile phase). LightLab Plant or Concentrate Test Kits include everything you need to run a sample in one economic package that includes vials, syringes, solvents, filters, and Selective Separation Columns. Cost per test varies depending on the volume of tests required but typically falls in the $3-5 price range.
LightLab Warranty
Your LightLab Cannabis Analyzer comes with a standard one-year factory warranty. An extended 2-year warranty option with calibration service is available.