Lab-Accurate. In-House. In Orange.
---
The accurate and easy-to-use LightLab 3 Cannabis Analyzer lets non-technical users analyze cannabinoid content like a testing laboratory. LightLab uses two common analytical methods, liquid chromatography and spectroscopy, simplifying the process to make on-site testing affordable and easy.
Converted Cannabinoids
Δ9-THC-O Acetate
Δ8-THC-O Acetate
Δ9-THCP
Δ8-THCP
HHC
Features
0-100% Cannabinoid analysis
Results in 10.5 minutes
Easy sample preparation
Portable, rugged
WiFi enabled
8-hour battery life
Sample Types
Flower
Biomass
Young plant
Concentrates
Processed waste
Tinctures
Infused products
Edibles (Contact us)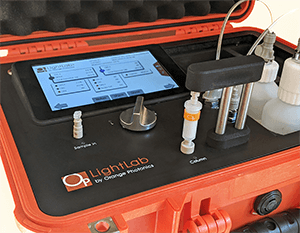 EASY TO USE
LightLab 3 provides lab-grade cannabinoid analysis in a rugged, easy-to-use format. Its touchscreen streamlines and simplifies the entire analytical process so every team member can follow the same workflow to produce consistent results.
Step-by-step – On-screen instructions guide you through each step of the sample preparation process based upon the sample type you select.
Accessories – Your LightLab includes all the accessories you need to begin using LightLab right out of the box, including a scale, sample shaker and more.
Tags – You have the option to include information about your sample including the operator's name, sample ID etc. Each test result will automatically include date, time etc.
Factory Calibration – LightLab arrives pre-calibrated and ready-to-use right out of the box. LightLab calibrations use Certified Reference Standards for traceability.
Mobile Monitoring – LightLab's Mobile Monitoring feature gives users the ability to remotely track testing progress from start to finish from a smartphone.
Results – The results from your most recent tests, as well as previous tests, may be viewed on the screen, exported as a CSV file and shared via text or email directly from LightLab.
Pro Mode – Advanced technical LightLab users may bypass guided screens to streamline workflow in Pro Mode and access chromatograms.
Workbench Setup – If you run a high volume of tests from stationary workstation, a Workbench Setup will let you run more tests at a lower cost-per-test.
RESULTS
Sample analysis results are available in five formats.
On-screen – After you run your sample, your results will populate on LightLab's screen. From this screen you can add additional details about the sample by tapping "notes" or you can tap "done" and run your next sample. You may also scroll through your test history to compare results.
Spreadsheet – LightLab provides a results spreadsheet (CSV) which gives you maximum flexibility and the opportunity to further analyze sample results in aggregate.
Report – You can use the CSV file to generate a full report, containing all the details about the sample you ran, including all inputted information such as moisture correction, operator, sample size, and more.
Text and email – Once your LightLab is set up on your Wi-Fi, you can share your results via text or email.
Mobile Monitoring – Get an instant notification when your test results are ready; view and share those results straight from your smartphone.