November 2, 2023
Cannabis Talk 101: Meet Jill Carreiro, Orange Photonics' VP of Sales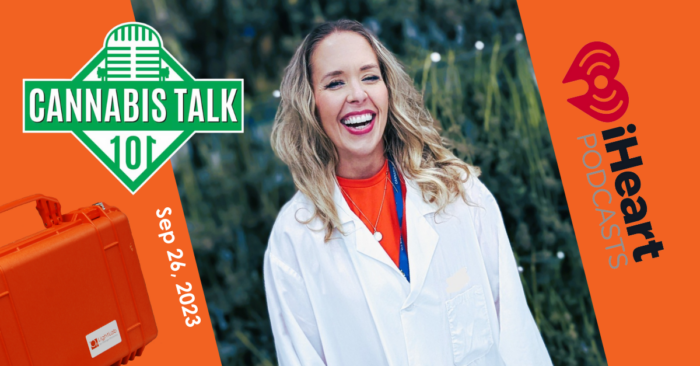 On a recent trip to L.A., Orange Photonics' Vice President of Sales, Jill Carreiro, had the opportunity to sit down for a chat with Blue and Joe Grande, Co-Hosts of Cannabis Talk 101, to discuss Orange Photonics and the cutting-edge LightLab 3 High Sensitivity Cannabis Analyzer.
"Cannabis operators of America – we are all about helping you solve the problems that you're definitely having!" says Jill in this highly educational and entertaining podcast. Listen in to hear Jill dive into everything LightLab and even share what her go-to munchies are!

Jill Carreiro Presents at the MJBizCon Science Forum
If you're heading to MJBizCon, be sure to attend the Science Forum on Tuesday 11/28 where you can hear Jill speak about Cannabis' Testing Conundrum. Save 10% on tickets with code SPKMJB2310.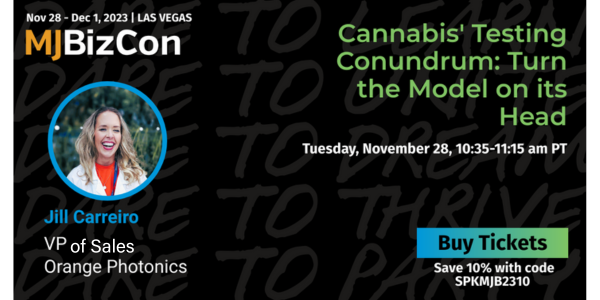 About Cannabis Talk 101
Cannabis Talk 101 made global history by becoming the first cannabis show to partner with iHeartMedia, and is now "The World's #1 Source For Everything Cannabis". Cannabis Talk 101 is a casual, fun, and informative long form interview podcast. Hosted by Christopher Wright, aka "Blue," CEO and Creator of Cannabis Talk 101 and the Cannabis Talk Network & "Joe Grande," former Co-Host on Big Boy's Neighborhood on Power 106, On Air With Ryan Seacrest on 102.7 KIIS FM in Los Angeles and The Dog House in the Bay Area on WILD 94.9 KYLD. Sharing a passion for educating, advocating and defending members of the cannabis community, they discuss the benefits of cannabis as well as the laws engulfing it, while breaking the stoner stereotype. Together, they have embarked on a mission to spread the truth about cannabis while guiding and connecting industry professionals along the way.