Using LightLab – Flower
LightLab was built with the non-technical user in mind (although Pro Mode is available). On-screen instructions will guide you each step of the way. For our example below, we covered the steps involved to run a flower sample. From start to finish, the entire process takes approximately ten minutes.
Sample Type – From the home screen, select "Flower" and step-by-step instructions will appear on the screen of your LightLab.
Sample Prep – LightLab will tell you how much sample to weigh and then ask you to enter in that weight on the touchscreen. You'll place the weighed sample in the provided vial and add the prescribed amount of LightLab Extraction Solvent.
Extraction – Once your sample and solvent are in the provided vial, you'll place it on the sample shaker that comes with your LightLab. The sample shaker will agitate the sample for two minutes, pulling the cannabinoids out of the sample and into the extraction solvent.
Injection – Once your sample is extracted, you can continue to follow the instructions on the screen. You'll use the provided syringe to inject the extracted sample into LightLab, tap "run" on the screen and in eight minutes the cannabinoid content of your sample will be shown.
SAMPLE TYPES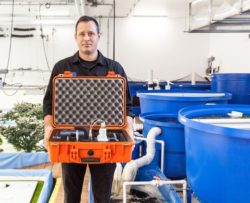 LightLab can run a host of sample types including wet and dry flower, leaf, concentrate, tincture, raffinate (processed material from an extraction) and some infused products. In addition, in "Hemp Compliance Mode" LightLab can analyze samples containing +/- .3% THC content. LightLab is an excellent Research & Development tool and the Orange Photonics' team is here to support your efforts. Our customers are encouraged to contact our Technical Support Team as they work on new products, processes and move the industry forward through innovation.